NOT ALL INSULATIONS ARE CREATED EQUAL
FIND OUT WHY SPRAY FOAM
MAY BE RIGHT FOR YOUR HOME
When it comes to your home insulation, it is hard to beat the quality of spray foam. Spray foam has a higher R value, mold and moisture resistance, durability, air sealing capabilities, and versatility over all types of insulation products. Spray can be used for a variety of applications including, crawlspaces, and open cavity walls. At Home Comfort Solutions we specialize in using only the best spray foam insulation to keep your home as comfortable and efficient as possible.
Sprayfoam V.S. Fiberglass (Traditional Insulation)
Fiberglass is what many people will find in their home as their insulation, especially along the attic floor. This could either a rolled fiberglass batt, or it could be blown in fiberglass or cellulose.
Not all insulations are created equal which causes each material to have its own advantages and its disadvantages. Traditional insulation is typically the less costly alternative but you do not get all of the advantages that come with spray foam insulation.
Unlike traditional insulation, spray foam insulation gives you both R-value (insulating value), and air sealing characteristics. R-value is the rating of how well the insulation keeps heat from transferring from one side of the insulation to another. When your insulation also provides air sealing characteristics, you are able to keep the unconditioned air from entering into your living space. This is important when trying to tackle uneven temperatures throughout your home, high utility usage, or an unhealthy home. The leakage of conditioned air from your home causes the air conditioner to work harder and in turn, will raise your power bill exponentially as well as shorten your air conditioner's lifespan. By using sprayfoam insulation your home you can cut your monthly energy bill by as much as 25% and save the life of your HVAC system.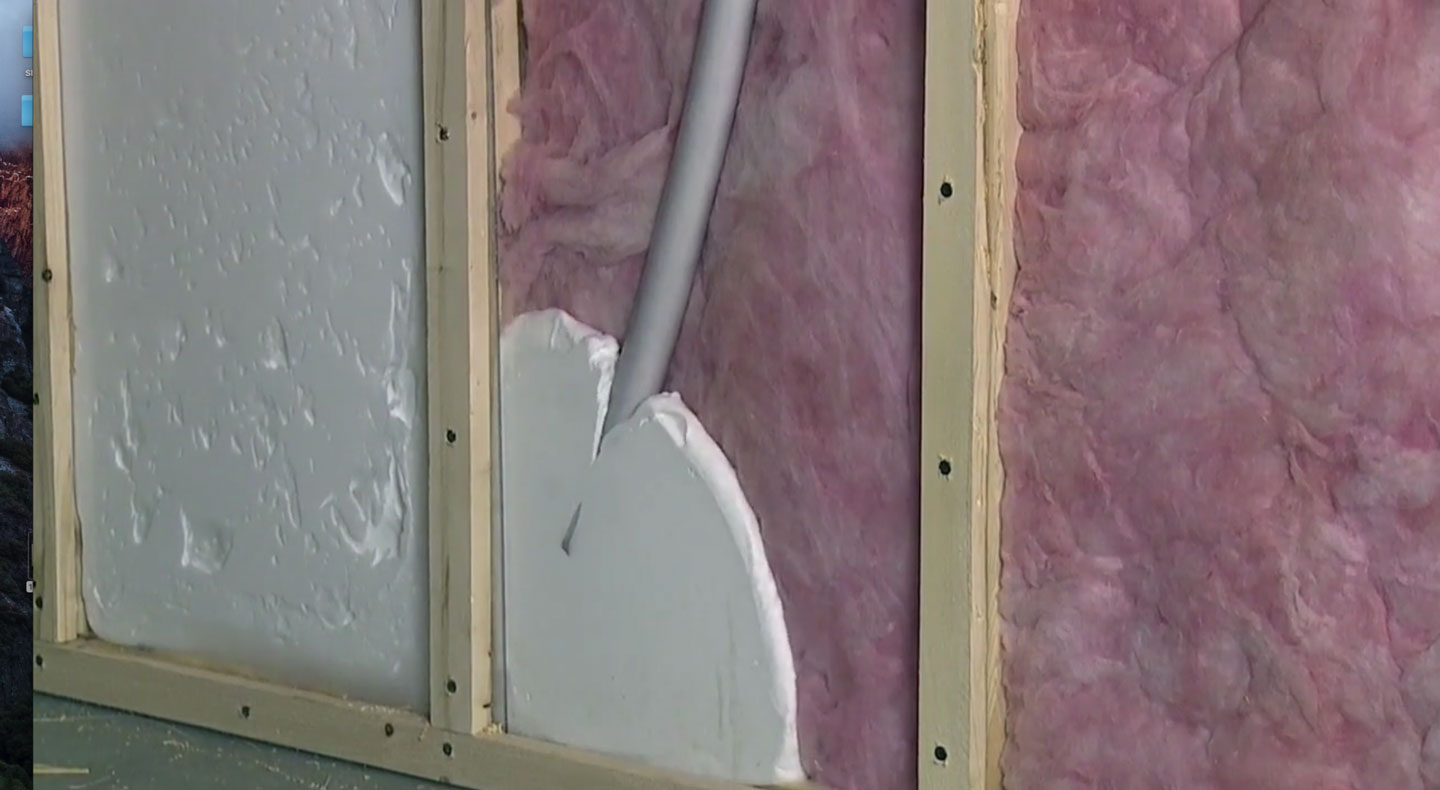 Open vs. Closed.
There are two different types of spray foam, open cell and closed cell spray foam. Each of which have different characteristics, advantages and disadvantages. Both types of foam are similar in looks and installation process, however differ greatly in where they can be installed. Your certified project manager at Home Comfort Solutions will help you determine your best foam option for your home.
Open Cell
Open cell spray foam is less dense than closed cell and can fill larger areas with less material, making it a more economical option in terms of cost per R-value. The R-value of our open cell spray foam is 3.8 per inch, and we often recommend 6" thick.  Most commonly used on attic roof decks to provide complete encapsulation from outside air.
Less Expensive Than Closed Cell
Not a Moisture or Vapor Barrier

High Expansion is Less Suitable for Small Areas

Lower R Value than Closed Cell Spray Foam
Closed Cell
Closed cell spray foam is about 4x as dense as open cell spray foam, cures as a very hard material that seals off the space from both moisture and air. The R-value of our closed cell foam is 7.8 per inch and often recommend 2" thick. Most commonly used on walls, metal buildings and crawlspaces.
Completely seals off air infiltration

Add Strength to Structure
More expensive than open cell spray foam

Moisture Barrier (not suitable for all applications)

Low Expansion, More Materials Used

Difficult for Retroactive Work
Proudly serving Knoxville & The East Tennessee Region
We service knox, blount, Sevier, Cocke, Jefferson, Roane, Loudon, greene, Hawkins, Hamblen, Grainger, Hancook, Clairborne, union, Campbell, Scott, Anderson, Morgan, Cumberland, Rhea, Meigs, Mcminn, Monroe, Polk, and Bradley Counties.